Honor Flight Needs You
The Hudson Valley Honor Flight is looking for Guardians for future flights.
For more information please visit:  https://hvhonorflight.com/guardians/
---
It's Now Official
The Town of Newburgh Memorial VFW Post 1161's first new home became reality on Sept. 22, 2022 at 1171 Union Avenue in the Town of Newburgh.  Pictured are American Legion Post 1420 officers and VFW Commander Richard Lay and Senior Vice Commander George Reilly.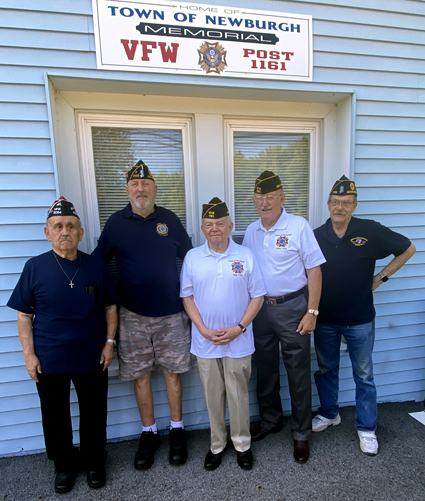 ---
Mike Lutz Inducted into NYS Senate Veterans Hall of Fame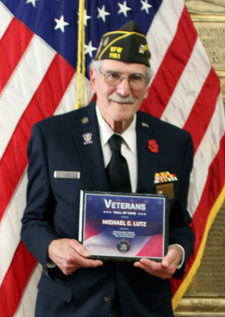 Our Service Officer and Post Chaplain, Michael C. Lutz was officially inducted into the New York State Veterans Hall of Fame by New York State Senator James Skoufis at the Town of Newburgh American Legion Hall on Saturday, June 11, 2022.
Mike enlisted in the United States Navy in September 1965.  His four years of Navy service, first consisted of being stationed on the Destroyer USS Charles S. Sperry (DD697).  Aboard the USS Sperry, he sailed around Asia and Africa on a Goodwill Tour.  When they docked, they helped build schools and small clinics in remote areas.  In September 1968, Mike began serving in the Mobile Reverine Force, M-151-1 in Vietnam, where he served as the Radio Operator and Machine Gunner.  He earned 4 Battle Stars.  After leaving Vietnam in 1969, having received an Honorable Discharge Mike returned to his hometown in Rockland County.
Several years later, Mike joined the Army National Guard, 101st Signal Battalion, where he served
in the Communications Division.  Then, from 1973 to 1976, he transferred to a Medical unit in the Army Reserve, 815th Station Hospital at Stewart Army Subpost, as the Sergeant in charge of the Radio Communications Section, until 1983.In 1985, Mike joined the 105th Air National Guard at Stewart Air Guard Base in Newburgh as a Maintenance Scheduler for Galaxy C5A aircraft.  During the week, Mike also worked as a postal carrier in New Windsor.  After 35 years of military service and 36 years of federal service, Mike retired at the rank of Master Sergeant (E-7) in 2007 and as a postal carrier in 2009.In 2000, Mike was a Eucharist Minister at mass at the 105th Airlift Wing Chaplain's Office.  He also serves as a Eucharist Minister, lecturer, and usher at St. Francis Church in Newburgh, which he has been doing for over 25 years, and still does it today.  Besides being a Life Member of VFW Post 1161, Mike is also a Life Member of Joseph R. Farina Catholic War Veterans Post 386, where he serves as the 3rd Vice Commander and Service Officer.
---
Post 1161 Presents Award to NFA JROTC Cadet – June 8, 2022
Cadet T/Sgt Litzy Fuentes was awarded a VFW Citation and a $250.00 check
for continued achievements.
---
Town of Newburgh Memorial Day Parade – May 29, 2022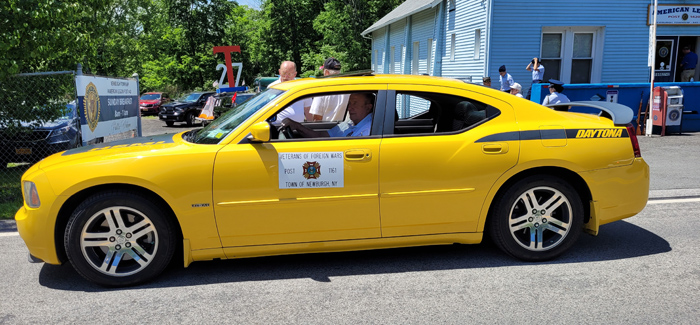 Driving, John Raszcewski, Adjutant.  Background left, Richard Lay, Commander.
---
Attention All Veterans
Do you have questions? Need help?
We stand ready to help you!
Contact our Service Officer:
Mike Lutz – 845-561-8745 – [email protected]
---
VFW Life Member Fee Schedule
* As of 12/31/21
For questions about converting to a life membership or to change your contact information so that
you obtain all the latest VFW news, call the VFW Member Service Center at 1-833-VFW-VETS (1-833-839-8387) or e-mail: [email protected]
---
Veterans Commemorate Purple Heart Day
On August 7, 1782, George Washington signed into law what we know as the Purple Heart.  This event took place right here in Newburgh, NY at what is now Washington's Headquarters.  Several Veterans organizations were on hand for the ceremony along with Post 1161.
Pictured here are:  Michael Lutz from our Post, who did the invocation; Frank Sommerlad from the 105th Airlift Wing at Stewart; Richie Lay from the Purple Heart Honor Mission; George Reilly of the Marine Corps League; and Bob Murphy, Commander of the Catholic War Veterans Post 386.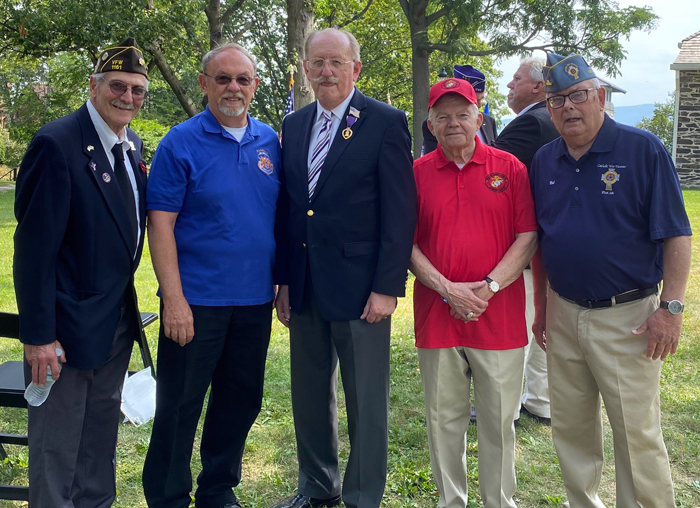 ---
Post 1161 Presents Award to NFA JROTC Cadet
Cadet Owen Hernandez, an honor student at Newburgh Free Academy, drill team member
and soon to be Marine was awarded the VFW Citation and Medal, and a $250 check for
Superior Cadet Achievement.
---
Post 1161 Provides Donation to the Save the Sullivans Campaign
The Buffalo and Erie County Naval & Military Park has officially launched the largest fundraising campaign in the 40 year history of the Park.  With a goal of $1,000,000, Save The Sullivans is set
to raise the money needed to make permanent repairs to the hull of the USS The Sullivans.
Decades of harsh weather in Buffalo have taken a toll on the ship.  The severely weakened hull was recently compromised below the water line and the ship began taking on water.
The USS The Sullivans (DD-537) a 78-year old Fletcher Class destroyer that saw action in
World War II, the Korean War and the Cold War is a major attraction at the Buffalo and Erie
County Naval & Military Park.  USS The Sullivans is named in honor of the five Sullivan brothers who, serving together on the light cruiser USS Juneau, were all killed in action on its sinking around November 13, 1942.  The ship was christened by the fallen brothers' mother, Alleta Sullivan and is a National Historic Landmark.  It holds a special place in our nation's military history and a special place on the Buffalo Waterfront.
---
Special VFW License Plates Now Available Through NY State
New York State is now offering VFW members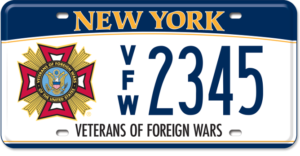 a special license plate with our seal right on the plate.  The initial fee for the plates is a one-time fee of $38.75 and after that you would pay your normal registration renewal.  If you want a custom plate where you choose your own letters/numbers, the initial fee is $70.00 and you would pay an additional $31.25 each year on top of your normal registration renewal.  Click here for the instructions and application that you can print from your home computer.  These plates are NOT available at the DMV offices or by phone or on-line.  They MUST be ordered by mail.
---
Rides Available to Castle Point VA Medical Center
There is a van service available to all Veterans to the Castle Point VA Medical Center on Mondays, Tuesdays, Thursdays and Fridays.  The van runs to the Bronx VA Medical Center on Wednesdays.  For times and locations, go to our Veterans Services page.  This is a FREE service for Veterans.