Post 1161 Presents Award to NFA JROTC Cadet
Cadet Owen Hernandez, an honor student at Newburgh Free Academy, drill team member
and soon to be Marine was awarded the VFW Citation and Medal, and a $250 check for
Superior Cadet Achievement.
---
Post 1161 Provides Donation to the Save the Sullivans Campaign
The Buffalo and Erie County Naval & Military Park has officially launched the largest fundraising campaign in the 40 year history of the Park.  With a goal of $1,000,000, Save The Sullivans is set
to raise the money needed to make permanent repairs to the hull of the USS The Sullivans.
Decades of harsh weather in Buffalo have taken a toll on the ship.  The severely weakened hull was recently compromised below the water line and the ship began taking on water.
The USS The Sullivans (DD-537) a 78-year old Fletcher Class destroyer that saw action in
World War II, the Korean War and the Cold War is a major attraction at the Buffalo and Erie
County Naval & Military Park.  USS The Sullivans is named in honor of the five Sullivan brothers who, serving together on the light cruiser USS Juneau, were all killed in action on its sinking around November 13, 1942.  The ship was christened by the fallen brothers' mother, Alleta Sullivan and is a National Historic Landmark.  It holds a special place in our nation's military history and a special place on the Buffalo Waterfront.
---
Special VFW License Plates Now Available Through NY State
New York State is now offering VFW members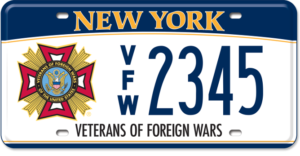 a special license plate with our seal right on the plate.  The initial fee for the plates is a one-time fee of $38.75 and after that you would pay your normal registration renewal.  If you want a custom plate where you choose your own letters/numbers, the initial fee is $70.00 and you would pay an additional $31.25 each year on top of your normal registration renewal.  Click here for the instructions and application that you can print from your home computer.  These plates are NOT available at the DMV offices or by phone or on-line.  They MUST be ordered by mail.
---
Rides Available to Castle Point VA Medical Center
There is a van service available to all Veterans to the Castle Point VA Medical Center on Mondays, Tuesdays, Thursdays and Fridays.  The van runs to the Bronx VA Medical Center on Wednesdays.  For times and locations, go to our Veterans Services page.  This is a FREE service for Veterans.