Attention Members!
Our next meeting will be on Wednesday, Oct. 23rd at 1:00 PM.
Town of Newburgh Town Hall
1496 Route 300
Newburgh, NY
This is a formal meeting.
Members are to attend in full VFW official uniform and are asked to arrive by 12:45 PM.
If you need directions please contact John Raszcewski at (845) 562-3705.
Interested in joining the VFW? If you're a veteran and meet the eligibility requirements, please contact us. We'd be happy to welcome you to our ranks.
---
State Honors Gold Star Family Members
The NY state Department of Transportation honored Gold Star families by dedicating a stretch of Route 300 in the Town of Newburgh in their memory.  The 1.5 mile stretch of Rt. 300 has been designated as the Gold Star Families Memorial Highway thanks to one of retired state Senator William Larkin's final bills.  The highway segment begins at Route 52 and continues up to the Newburgh Mall.
Members of this Post are pictured above alongside some local Gold Star Families to witness and be a part of the dedication.  Also on hand were members of the local Rolling Thunder chapter.  Pictured below are some of our members before the ceremonies at left and at right Adjutant John Raszcewski and Commander Richard Lay.
---
Special VFW License Plates Now Available Through NY State
New York State is now offering VFW members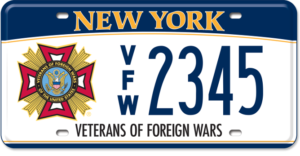 a special license plate with our seal right on the plate.  The initial fee for the plates is a one-time fee of $38.75 and after that you would pay your normal registration renewal.  If you want a custom plate where you choose your own letters/numbers, the initial fee is $70.00 and you would pay an additional $31.25 each year on top of your normal registration renewal.  Click here for the instructions and application that you can print from your home computer.  These plates are NOT available at the DMV offices or by phone or on-line.  They MUST be ordered by mail.
---
Rides Available to Castle Point VA Medical Center
There is a van service available to all Veterans to the Castle Point VA Medical Center on Mondays, Tuesdays, Thursdays and Fridays.  The van runs to the Bronx VA Medical Center on Wednesdays.  For times and locations, go to our Veterans Services page.  This is a FREE service for Veterans.