Veteran's Day 2020
On a balmy Veteran's Day that felt somewhat like Memorial Day, local officials and Veterans
gathered at Newburgh Town Hall for the annual commemoration and wreath-laying ceremony.
"It's a Veteran, not a preacher who gave us freedom of religion.
It's a Veteran, not a reporter, who gave us freedom of the press.
It's the Veteran, not the poet, who gave us freedom of speech.
It's the Veteran, not the lawyer, who gave us the right to a fair trial.
And it is the Veteran, not the politician, who gave us the right to vote.
Veterans entered the military for the freedom of others.
Many entered combat and never returned," said Gil Piaquadio, Newburgh's town supervisor.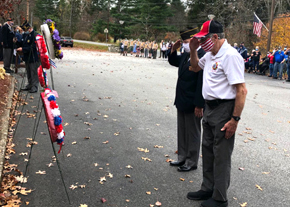 Many speakers thanked Veterans, both living and dead, for the sacrifice, but Piaquadio urged civilians to make their decisions by choosing how to best honor their service on any given day.
Post 1161 members George Reilly and Michael Lutz, salute the wreath at Newburgh Town Hall.  Our own Richie Lay was also a guest speaker.
---
Post 1161 Donates to Support Our Heroes
We were happy to be able to donate $250.00 to Support Our Heroes, a non-profit organization that delivers much needed care packages to our deployed men and women serving all over the world.  Below, James Peloso presents the check to Founder, Lucy Mercado.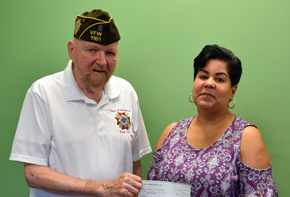 The foundation started in 2004 sending snacks, personal care items and more to our men and women serving overseas.  These packages of gum, mints, cookies, chips, pretzels, toothpaste, lotions, lip balm, shampoo, wipes, batteries and other little essentials boost their morale and let them know that they are appreciated and not forgotten."  To learn more about Support Our Heroes, you can visit their website at, www.supportourheroes.today
---
State Honors Gold Star Family Members
The NY state Department of Transportation honored Gold Star families by dedicating a stretch of Route 300 in the Town of Newburgh in their memory.  The 1.5 mile stretch of Rt. 300 has been designated as the Gold Star Families Memorial Highway thanks to one of retired state Senator William Larkin's final bills.  The highway segment begins at Route 52 and continues up to the Newburgh Mall.
Members of this Post are pictured above alongside some local Gold Star Families to witness and be a part of the dedication.  Also on hand were members of the local Rolling Thunder chapter.  Pictured below are some of our members before the ceremonies at left and at right Adjutant John Raszcewski and Commander Richard Lay.
---
Special VFW License Plates Now Available Through NY State
New York State is now offering VFW members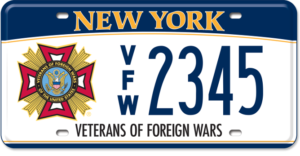 a special license plate with our seal right on the plate.  The initial fee for the plates is a one-time fee of $38.75 and after that you would pay your normal registration renewal.  If you want a custom plate where you choose your own letters/numbers, the initial fee is $70.00 and you would pay an additional $31.25 each year on top of your normal registration renewal.  Click here for the instructions and application that you can print from your home computer.  These plates are NOT available at the DMV offices or by phone or on-line.  They MUST be ordered by mail.
---
Rides Available to Castle Point VA Medical Center
There is a van service available to all Veterans to the Castle Point VA Medical Center on Mondays, Tuesdays, Thursdays and Fridays.  The van runs to the Bronx VA Medical Center on Wednesdays.  For times and locations, go to our Veterans Services page.  This is a FREE service for Veterans.